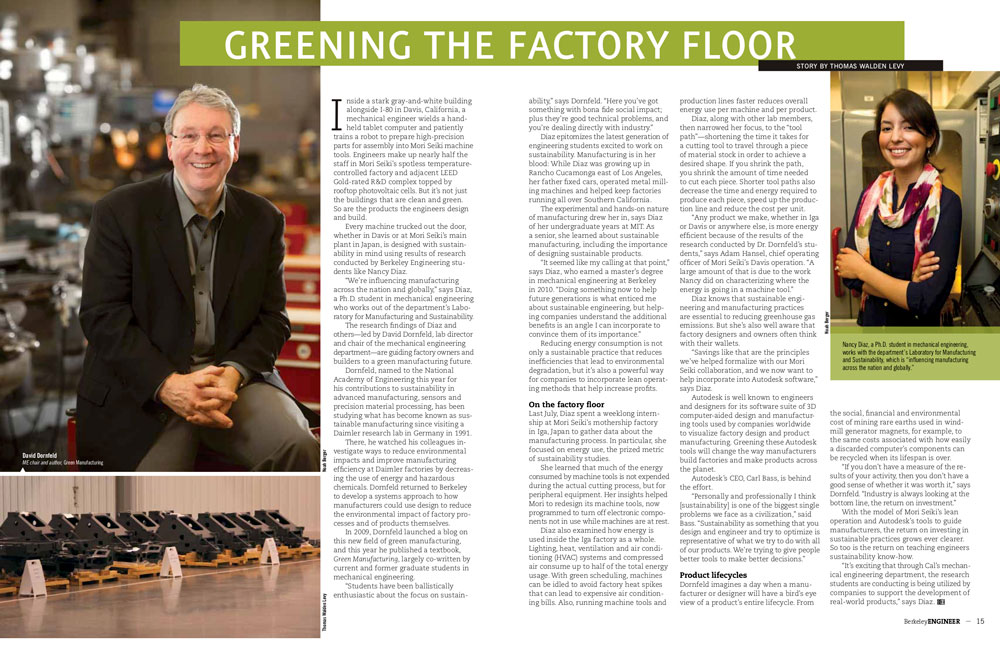 Greening the Factory Floor
Mechanical engineering students at UC Berkeley are helping move industry giants toward more "sustainable" manufacturing.
CLIENT
Berkeley Engineering — School of Engineering at the University of California, Berkeley
ASSIGNMENT
Wrote article for Berkeley Engineering, the school's print magazine. Article also appears on the college's website.
Inside a stark gray-and-white building alongside I-80 in Davis, California, a mechanical engineer wields a handheld tablet computer and patiently trains a robot to prepare high-precision parts for assembly into Mori Seiki machine tools.
Every machine trucked out the door, whether in Davis or at Mori Seiki's main plant in Japan, is designed with sustainability in mind using results of research conducted by Berkeley Engineering students like Nancy Diaz.
"We're influencing manufacturing across the nation and globally," says Diaz, a Ph.D. student in mechanical engineering who works out of the department's Laboratory for Manufacturing and Sustainability.